Mag Felix Oberdorfer LLM (UCLA) joins Kerres | Partners as attorney-at-law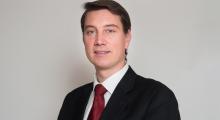 Mag Felix Oberdorfer LLM (UCLA) joins Kerres | Partners as attorney-at-law
Kerres | Partners welcomes Mag Felix Oberdorfer who joins the law firm as new attorney-at-law as of January 1, 2016. The 33 year old expert for Banking & Finance and Public Procurement Law has a long standing experience in the main areas of his legal expertise and will become part of the team of Kerres | Partners working as well in the fields of Mergers & Acquisitions, Corporate, Public Law, IP Law and General Civil and Commercial Law.
Mag Felix Oberdorfer graduated from the University of Vienna and completed a postgraduate master study with a specialization in intellectual property law at the renowned University of California, Los Angeles (UCLA). Mag Felix Oberdorfer worked in reputable law offices in Vienna and is admitted as attorney-at-law in Austria and New York.
With his many years of experience of legal practice, at Kerres | Partners, Mag Felix Oberdorfer will negotiate and structure domestic and cross-border finance transactions and support the team of Kerres | Partners in advising national and international clients in every aspect of business law.
For more than 25 years Kerres | Partners represents its clients' interests in all matters of commercial law and – as one of Austria´s leading law firms – links excellent legal knowledge with profound economic understanding. Due to his extensive knowledge inter alia in the areas of Banking & Finance and Public Law, Mag Felix Oberdorfer will strengthen the legal expertise of Kerres | Partners as Austrian business law firm with a focus on Commercial Litigation and Dispute Resolution.