Dialog am Schubertring: "The Unwelcome Shareholder" and "Women on the Supervisory Board"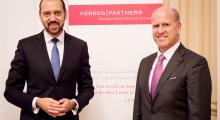 Dialog am Schubertring: "The Unwelcome Shareholder" and "Women on the Supervisory Board"
Within the framework of the event series "Dialog am Schubertring", Kerres I Partners regularly invites to presentations with renowned cooperation partners to its law firm located at the Viennese Stadtpark.
This March, Dr Christoph Kerres, the founding partner of Kerres I Partners, and Univ-Prof Dr Werner Hoffmann of Contrast Ernst & Young Management Consulting, presented on the topics "The Unwelcome Shareholder" and "Women on the Supervisory Board".
Relating to the topic "The Unwelcome Shareholder – Shareholder among themselves as well as in the field of tension with the management" Dr Christoph Kerres explained the possibilities for an exclusion of shareholders. Thus, the Commercial Code (Unternehmensgesetzbuch) provides clear legal regulations about business partnerships (Personengesellschaften). Therefore, the problem of exclusion is more likely to arise in the case of corporations (Kapitalgesellschaften). However, the Law on Limited Liability Companies (GmbH) does not provide regulations for the termination of the company or for the exclusion of a shareholder. Therefore, the only possibility to exclude a shareholder from the company is a so called "Kaduzierungsverfahren" – or a "squeeze out".
Univ-Prof Dr Werner Hoffmann focused on the question of how cognitive diversity affects decision-making processes of teams in the broad sense of the term "Women in the supervisory board and their influence on the management and success of the company" as well as under which conditions, cognitive diversity in the Supervisory Board has a significant impact on the company's success. According to Hoffmann, the results of these findings in the context of the number of women in decision-making bodies and the economic success of companies show mixed results and are, in his view, characterized by "apparent correlations behind which there are no causal effects". Nonetheless, such regulations are primarily motivated by a societal policy, but must then also be argued and legitimized, Hoffmann continued.
If interested, we will be pleased to send you the presentation documents on request to marketing@kerres.at!
Kerres | Partners represents its clients' interests in all matters of commercial law, transactions, litigation and arbitration, private foundations, as well as administrative law for more than 25 years. Kerres | Partners is one of Austria´s leading law firms and stands for knowledge, trust and success.